Fake Bamboo Plants
About Fake Bamboo Plants
Do you want to display the beauty of bamboo plants, but don't want to deal with the hassle of growing live bamboo. Well… Fake bamboo, or faux bamboo plants might your best option. Like many other artificial plants, fake bamboo plants are available in a wide range of sizes, shapes, and colors. In addition, you don't have to worry about watering and caring for an artificial plant. Now granted, it is not as beautiful as a live bamboo plant, but less plant maintenance will save you time and money. Fake bamboo plants fit very nicely in an office setting or in a home foyer where you greet guests. It is common for real estate agents to use fake bamboo to temporarily decorate homes they are trying to sell. A realtor friend of mine uses fake bamboo in every house that she sells. Fake bamboo comes in a variety of colors, so it can accent a wide range of color schemes in a home.
How Fake Bamboo Plants are Made
Are fake bamboo plants eco-friendly? Not really… Artificial plants undergo a fairly complex manufacturing process to look as realistic as possible. It's impossible to eliminate the plastic feel of the plants, but I've been fooled a couple times myself. There are several different processes for manufacturing artificial plants, with the majority of production taking place in China.
The manufacturing process starts by putting a polyester material in gelatin. The polyester fabric is then dyed and molded into the shape of a bamboo plant. Last, the plants are assembled by hand. Leaves are fitted to the branches, then branches are fitted to the bamboo canes. The final product is a surprisingly realistic looking bamboo plant.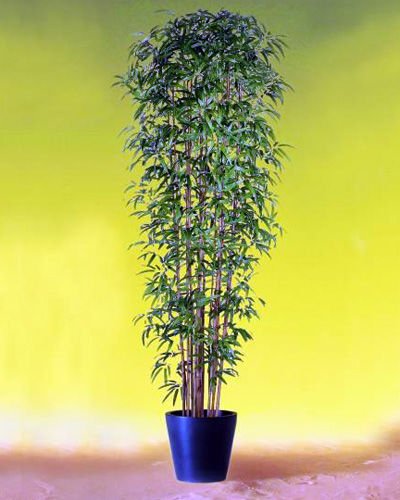 Picture of Fake Bamboo Plant
Where to buy fake bamboo plants
Fake bamboo plants are available from a wide range of suppliers. We recommend checking our Cost Plus World Market if you plan on buying the plants locally. World Market maintains a large selection of artificial bamboo plants and decorative vases. If you are searching online, check out some of the products below from Amazon. Prices of fax plants range from $20 - $150. Make sure the supplier has a return policy if you go online to purchase fake bamboo plants.